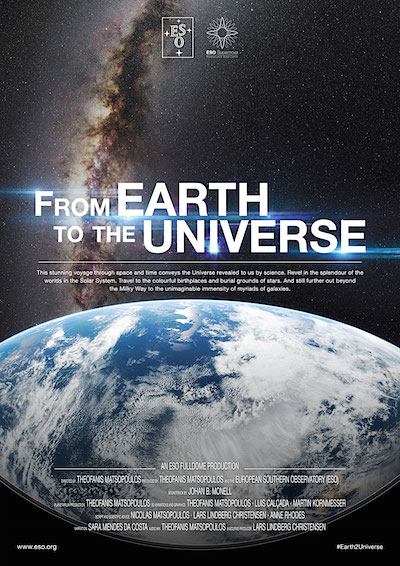 From Earth to the Universe

The night sky, both beautiful and mysterious, has been the subject of campfire stories, ancient myths and awe for as long as there have been people. A desire to comprehend the Universe may well be humanity's oldest shared intellectual experience.
Yet only recently have we truly begun to grasp our place in the immensity of the Cosmos.
This 360° film takes you from Earth to the colourful birthplaces and burial grounds of stars and further out, well beyond the Milky Way. Along the way we learn about the history of astronomy, the invention of the telescope, and today's giant telescopes that allow us to probe ever deeper into the Universe.
Full preview below. Narrative script available here.
Film Type
Length: 30min
KS3 - KS5  /   Families  /  Adults
Also available in German and Greek